FEATURED ARTIST - LOUISE HANCOX
From landscapes to detailed floral wool paintings, Louise Hancox has blended her set of skills to produce stunning art pieces.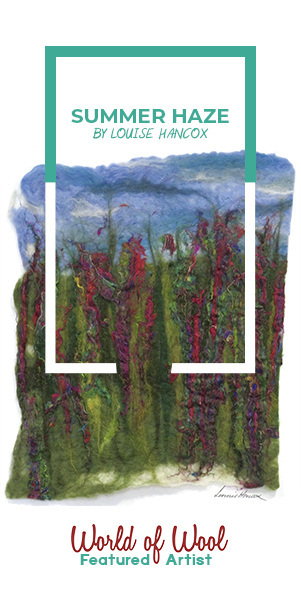 Like many of our featured Artist, crafting runs through Louise's veins.  Starting a few years ago making cushions and aprons, Louise's beautiful work is now listed through The British Craft House.
Mixing together felting techniques with applique and embroidery, Louise's artwork never fails to catch your eye. Her style mimics oil painting but offers depth, texture and silky tones by her use of wool, silks and other effect fibres.

Our personal favourite currently listed is 'Summer Haze' which uses Merino wool and Sari Silk to create a rich textured picture.  We love her framing of this, using the natural shrinkage during wet felting to create an uneven edging.

Louise is based in Worchestershire, working from a studio in her home shared with her husband and two teenage sons. Daily walks with 'Monty Dog' provide Louise which much inspiration as she enjoys the countryside on her doorstep.

Take a look at Louise Hancox's work - https://thebritishcrafthouse.co.uk/shop/louise-hancox-textile-artist/
Q&A
What is your craft?
I love to work with a variety of textiles to create artworks and home accessories, but my main love is felting. I am currently enjoying creating a new range of wet felt vessels, exploring a variety of resist techniques.

How long have you been a craft enthusiast?:
Do something creative every day! That's my mantra. I've always loved making my home a beautiful place to live in, so even if I've just picked flowers from the garden and popped them in a vase, it's something creative and that makes me smile. I really started to work with textiles when I gave up my work as a Teaching Assistant in a local school a few years ago. I started making cushions, aprons, bunting etc and taking them to craft fairs and it developed from there. I love art but could never really capture anything successfully with pencil or paint, but when I was asked by a friend to go along to a needle felt workshop, I discovered a whole other way to release all my creative energy. I taught myself to wet felt and it is this medium I really enjoy.

What do you enjoy most about your craft?:
I love texture and colour and the hands-on approach to my craft, manipulating fibres and fabrics into something beautiful. Using a range of techniques, including wet felting, needle felting, appliqué, hand and free-motion embroidery, I am inspired by the countryside on my doorstep and beyond.
---